Exams
Comprehensive Oral Exam & Limited Oral Exams

ORAL SURGERY
Root canal, surgical extraction, Crown, & periodonal treatment
IMPLANTOLOGY
Implant and 3D CT scan available

COSMETIC DENTISTRY
Veneers & teeth whitening
Dr. Katherine Yi D.D.S
General Dentist
Dr. Daniel Kim D.D.S
General Dentist
Kate & JiYoung
Our hygienist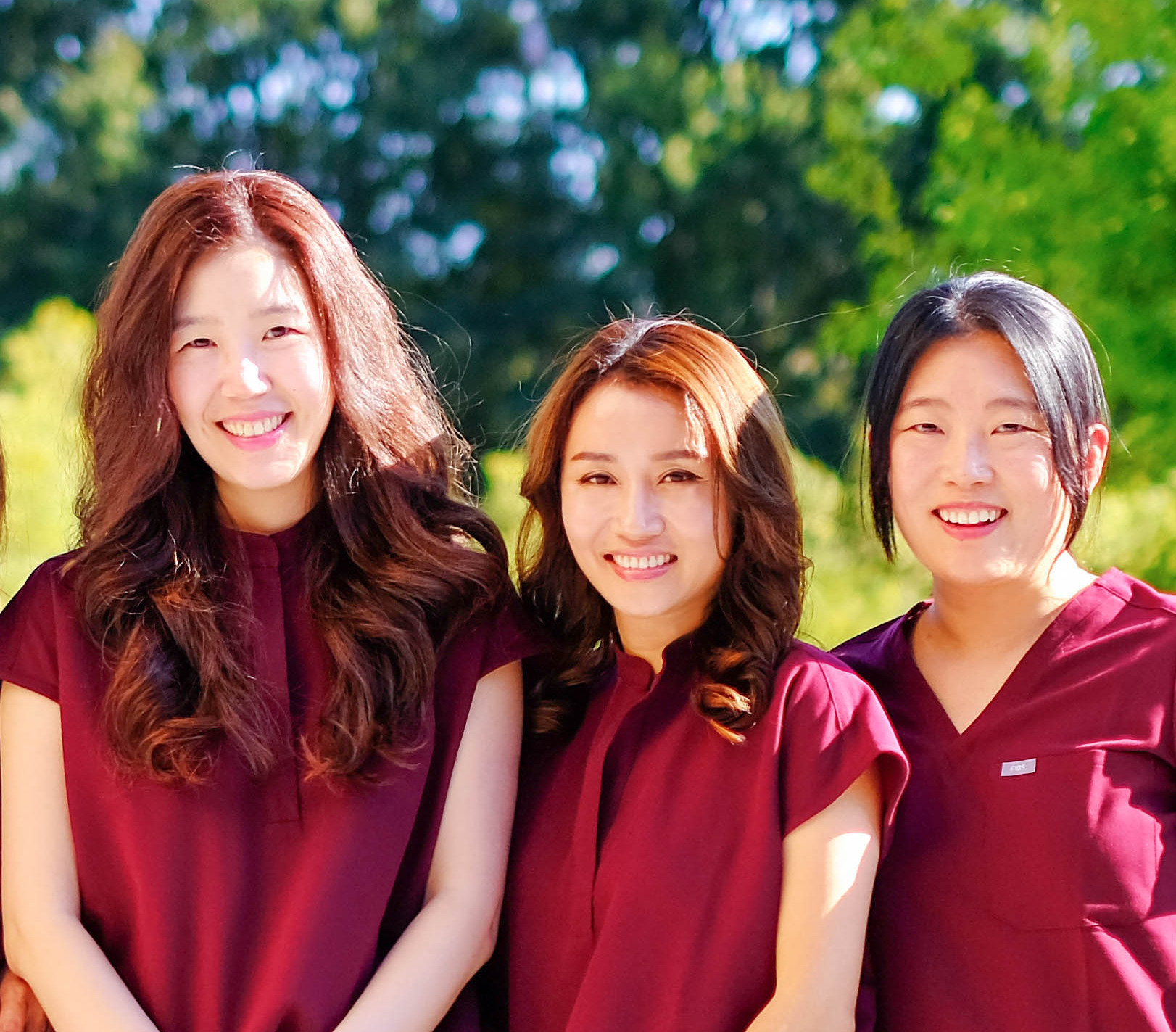 Joohee, NaNa & Claire
Our hygienist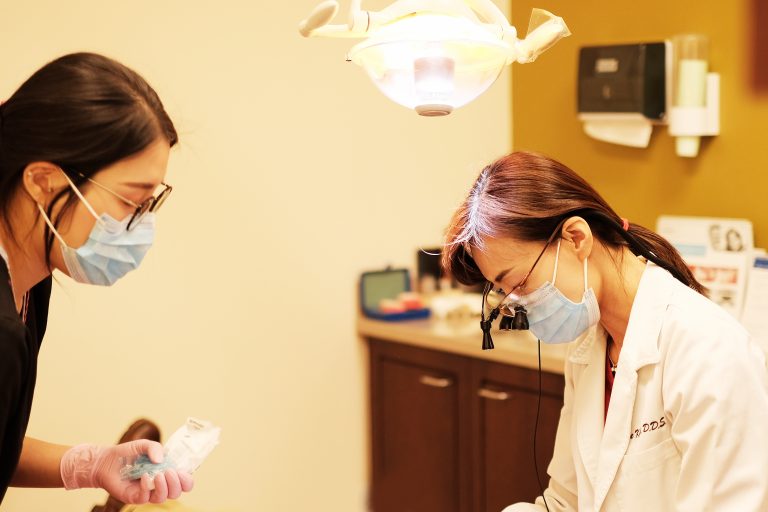 HIGH STANDARDS
A standard of excellence in personalized dental care enables us to provide the quality dental services our patients deserve. We provide comprehensive treatment planning and use restorative and cosmetic dentistry to achieve your optimal dental health. Should a dental emergency occur, we make every effort to see and care for you as soon as possible.    
Uncompromising Safety
Infection control in our office is also very important to us. To protect our patients and ourselves, we strictly maintain sterilization and cross contamination processes using standards recommended by the American Dental Association (ADA), the Occupational Safety and Health Administration (OSHA), and the Center for Disease Control (CDC).
Periodontal disease is an infection of the tissues that support your teeth. Your gum tissue is not attached to the teeth as high as it may seem. 
Once upon a time, if you had a tooth with a diseased nerve, you'd probably lose that tooth. Today, with a special dental procedure called a root canal therapy you may save that tooth.
A dental implant is an artificial tooth root that is placed into your jaw to hold a replacement tooth or bridge. Dental implants may be an option for people who have lost a tooth or teeth due to periodontal disease, an injury, or some other reason.
Thanks to advances in modern dental materials and techniques, dentists have more ways to create pleasing, natural-looking smiles. 
If you want a smile that's your crowning glory, you may need a crown to cover a tooth and restore it to its normal shape and size. A crown can make your tooth stronger and improve its appearance.
Removable partial dentures usually consist of replacement teeth attached to pink or gum-colored plastic bases, which are connected by metal framework.
Everybody loves a bright white smile, and there are a variety of products and procedures available to help you improve the look of yours.
I have NEVER felt so COMFORTABLE and WELCOMED in a dentist office before. Hands down the best. This place was so clean! I felt like I would make it dirty just to sit. They are on top of their cleaning safety routine. Complete suit, face visors, masks, gloves. Everything is wiped before and after. I had no anxiety whatsoever touching things or taking my mask off. As if it couldn't get any BETTER, the doctor listened to every single complaint or concern. The nurses were extremely nice and friendly as well. No one hassled me or was trying to rush me. I'm just smitten. I look forward to my years to come at Complete Smile Dentistry. Because I definitely am coming back! Thank you!
I've been coming here for 2 years very 6 months for dental cleaning and I love the people here . Everybody is polite and courteous . Dr. Yi was very professional she is superb at what she does . One of the best dentist I ever had . I'm so thankful that I found a great dentist and honest about the price . I love that they always check my insurance before they do some cleaning on my teeth make sure it covers and I know ahead of time how much will I pay out of the pocket.
Dr. Yi is amazing!!! By far, the best cleaning I've ever received. Everyone was very kind and professional. Their prices are reasonable and they go over everything beforehand. I'm so glad I found this dentist. I highly recommend Dr. Yi.
I had a broken tooth on a Saturday and Complete Smiles worked me in to check it out. They were warm and friendly and set my mind at ease about what was going on. I was headed out of town for business but came back when I returned from my trip to have it permanently repaired. I would recommend them to anyone in need of a new dentist.
Clean office, friendly staff, they thoroughly explain every form before you sign so that you are aware of any fees upfront. My dental hygienist was Jin Kwoun and she was very professional knowledgeable and gentle. Great cleaning !
Complete Smile Dental is great. I highly recommend Complete Smile Dental. My procedure was wonderful, and the Doctor and her staff made me feel welcome. This is the place to go for dental work. Kudos.
Dr. Yi is great! She consistently delivers top notch service. I went there today and was scheduled for a root canal. However, once she got to work it turned out I didn't need one. She did have quite a bit of work. However, it was painless. I am a big baby when it comes to dentists but Dr. Yi always make it a great experience!
Dr. Yi is awesome! Very compassionate and personal, My family and I have been a patient here for years. My children absolutely love her. The dental hygienist are gentle and kind with my children. I would recommend her to anyone!
I was getting a tooth extracted and was a bit nervous. Dr. Yi's personable attitude put me at ease. The extraction was painless. Even the initial shots were painless. Not that anyone wants to get teeth extracted but if you must, I highly recommend Dr. Yi.
I had veneers for my front teeth done with Dr. Yi. It's been finished beautifully, and I've used it for ten years without any problem. She is great and friendly dentist. All other staffs here are very professional, fast, and kind. I would highly recommend Dr. Yi.
I highly recommend this location, very informative, super professional and really nice staff. Making an appointment for my wife and daughter as well. Thank you
Very nice staff I will continue to give them my business. Lovely office and pleasant experience
Dr. Yi is very professional! I moved to GA 7 years ago and searched for years for the type of dentist that cared about her patients and worked in concert with her patients.
I've been coming here for many years and have nothing but praise for Dr Yi and her team. Their professionalism, customer service and facility is exceptional. There is a true sense of patient care and concern whenever I'm there. They go the extra mile to accommodate your requests. Booking appointments are never to far out and if they can't get you in immediately, they followup whenever there's a cancelation. Overall very pleased with their service and in no rush to change dentistry at this time.